This week I read Igam Ogam by Ifan Morgan Jones. It was reviewed briefly by @Davids in his epic list last year, but I thought I'd write a little bit more about it.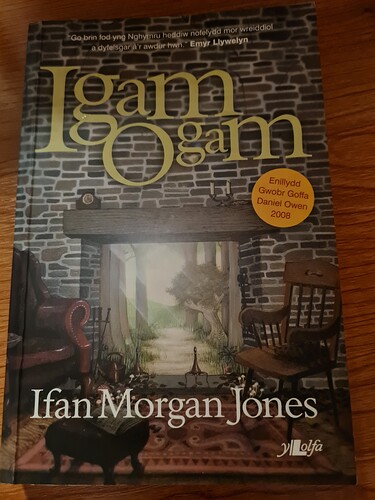 Loosely translated from the back cover:
"When Tomos Ap gets a call from his adopted father calling him home, he suspects that the plan is to force him to take over the family farm. But with Nature himself trying to buy the place, a bus load of archdruids on the way, and something suspicious lurking under the standing stone in the field, he's got more than a couple of sheep to worry about…"
I have to say, I really really enjoyed this book. The best comparison I can come up with is to say it's in the style of Terry Pratchett, but in a distinctly Welsh context. It's also the first silly book I've read in months, and it's such a relief to laugh out loud.
Here's a flavour of it:
One of [the druids] came to the mound, pointing his finger threateningly in Tomos's direction. "Get out of here. You're not supposed to be here." His voice was like thunder.
"What?"
"You've put your tent on top of our ceremonial site," said another accusingly. He had a huge sword in his hand. "Go away… Now!"
"Could you move the tent a little bit?" said a girl's voice. You can join us if you want. We're going to have a fire and roast marshmallows. "
"But he's not a member of the Gorsedd," protested the man with a voice like thunder.
"You're only an ovate, Dilwyn," said the girl. Don't be so snooty. And you're not supposed to threaten people with the sword of piece!"
In summary really recommend if Terry Pratchett is up your street. It's also comparatively short at 190 pages and not too hard once you've acquired the vocab of standard fantasy fare anyway, so worth taking a punt on if you're not sure.