I've just realised that although I see Llyfr Glas Nebo mentioned everywhere, it hasn't been discussed in much detail in this thread, since @gruntius mentioned it straight off the bat at the start of the thread.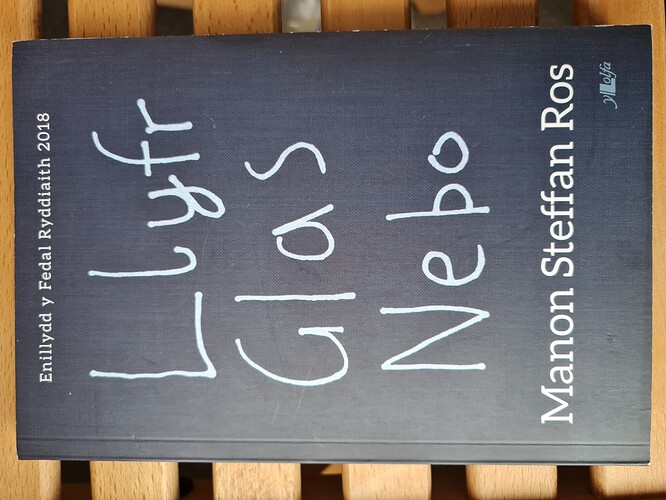 This was the first book I read that wasn't for learners, and I read it straight after finishing the Cyfres Amdani Uwch books. As with pretty much everything I read I had to look some stuff up in a dictionary but this didn't feel orders of magnitude harder than the Cyfres Amdani books, so a good next step.
As with so many books I found the first few chapters the hardest, as I got into the style of the book and the rhythm of the language.
The book takes the format of a diary written by a mother and son who haven't had much formal schooling so the spelling felt fairly colloquial to me, lots of "sgin i'm" etc. I think Ssiw learners will have an advantage here as we're used to hearing the language as it's spoken, so my top tip is to read unfamiliar words aloud. It will probably be easier for readers familiar with Northern forms.
The other complication is that the characters reveal what has happened over the course of the book, so there's a lot of missing/inconsistent information at the start. That can be hard as a learner where you often depend on context to help you understand the language. I did an airpunch after a few chapters because there was something I thought I must have misunderstood because it didn't make sense, but my understanding was actually fine and it didn't make sense! So if you're confused to start, don't worry.
Once I got into the rhythm of the language and the story I found it utterly gripping, and it's still haunting me a few weeks later. I'm purposely not saying anything about the plot because we can all use Google, but I will say I found it a powerful read having lived through 2020. It's not about a pandemic but I'm sure last year gave me a different perspective on the story. I'm really sad for English speakers that they don't get to read this.