Diffodd y Sêr by Haf Llewelyn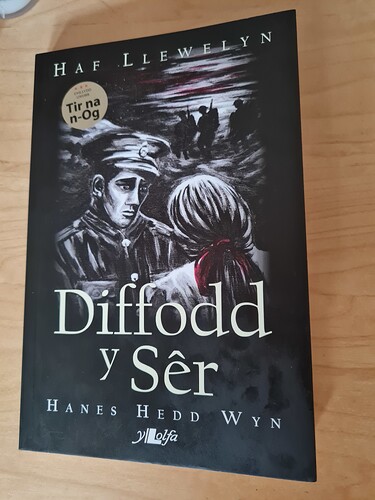 I had been procrastinating over reading this, because it tells the story the famous poet Hedd Wyn, and I knew his fate already. From the cover, I thought it might dwell on his experiences in the ditches, which was never going to be cheery reading.
However the book is actually told from the perspective of his thirteen year old sister, Anni, so was much easier to read emotionally than I was expecting. The war is the background to everything, but at the start she actually knows very little about it, probably less than we do now, and of course she is preoccupied by other topics, such as her friendships. All in all, I found it about as gentle as can be given the topic. I studied the English war poets for GCSE and this was a lot less brutal than that!
The book is fairly short at 120 pages, and I thought the language was pretty clear so it should be fairly accessible to someone who's ready to move off books for learners. If you've read Efa, for example, you could read this.